Apartments / Luxury Lofts / Office Space / Retail Space
Redevelopment of the historic Goodyear Campus
The East End is a 1.4 million square foot mixed use redevelopment initiative that offers Akron's newest and best "LIVE, WORK & PLAY" experience. In addition to luxurious apartments and Hilton Garden Inn Hotel, this exciting new community now also includes two concert/event venues, a fully managed sports complex and Class A Office space with an ultra modern lobby with first class amenities.
Latest East End News
From Crain's Akron Business: The new units will be a little fancier and priced a little higher than the apartments Industrial Realty Group already has developed and easily leased across the street, company executives said. The $20 million project is the third phase of the redevelopment of the former Goodyear headquarters complex. Industrial Realty Group has begun construction of more…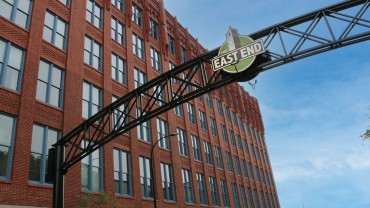 Akron's East End development is getting another high-profile tenant. Ernst & Young LLP (EY) is moving its Akron office to 1200 E. Market St., the firm announced on Wednesday, Sept. 18. EY, which employs about 85 people at its current Akron office at 50 S. Main St. downtown, hopes to be in its new space by August 2020, the company…
On August 23, 2019, Eighty-Three Brewery celebrated their grand opening. The independent, 7-barrel, craft brewery creates traditional and unique ales for novices and connoisseurs alike. They boast a wide range of craft beer styles, brewed on-site, as well as a small wine selection. Find out more on their Website, Facebook or Instagram.
The East End is a dynamic, mixed-use, community. The 1.4 million square-foot site is comprised of Class A office space, sophisticated apartments, a 1,500-seat theater, a 20,000 square-foot gymnasium and a hotel. The live, work, play concept also features shopping and restaurants, making it Akron's destination for entertainment, economic activity and comfortable living.